The financier accused of the killings of two Indonesian women admitted only to manslaughter on grounds of diminished responsibility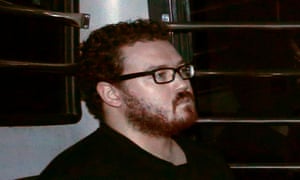 A Cambridge-educated British banker has pleaded not guilty to the murder of two young Indonesian women found dead at his luxury Hong Kong home almost two years ago, blaming a "personality disorder" for the killings.
Rurik Jutting, 31, was arrested in the early hours of 1 November 2014 after he called police to his 31st floor flat in Wanchai, a seedy bar district not far from the former colony's financial centre.
Inside, officers found the bodies of two migrant workers who had frequented the area's bars, 23-year-old Sumarti Ningsih and 29-year-old Seneng Mujiasih, who was also known as Jesse Lorena.
Ningsih, a mother-of-one, had sustained severe knife wounds to her neck and buttocks while the decomposing body of Mujiasih, thought to have been killed several days earlier, had been stuffed into a suitcase on the apartment's balcony.
Shortly after his arrest Jutting was transferred to the Siu Lam psychiatric centre, a maximum security facility for prisoners requiring psychiatric care.
As his trial began on Monday morning, Jutting told Hong Kong's high court he was not guilty of murder. However, he pleaded guilty to the crime of manslaughter for the reason of diminished responsibility.
Tim Owen QC, a British lawyer who is defending Jutting, said his case would be based around the argument that Jutting suffered from a "personality disorder".
John Reading, the prosecutor, claimed psychopathic behaviour did not provide grounds for Jutting, who had been a highly paid employee of Bank of America Merrill Lynch, to plead diminished responsibility.
The defendant, who studied at the prestigious Winchester College school followed by Peterhouse, Cambridge, also admitted a third charge of preventing the lawful burial of a body.
Jutting had appeared overweight and disheveled at previous court appearances. But Reuters said he looked trim and clean shaven as he appeared in court wearing a dark blue shirt.