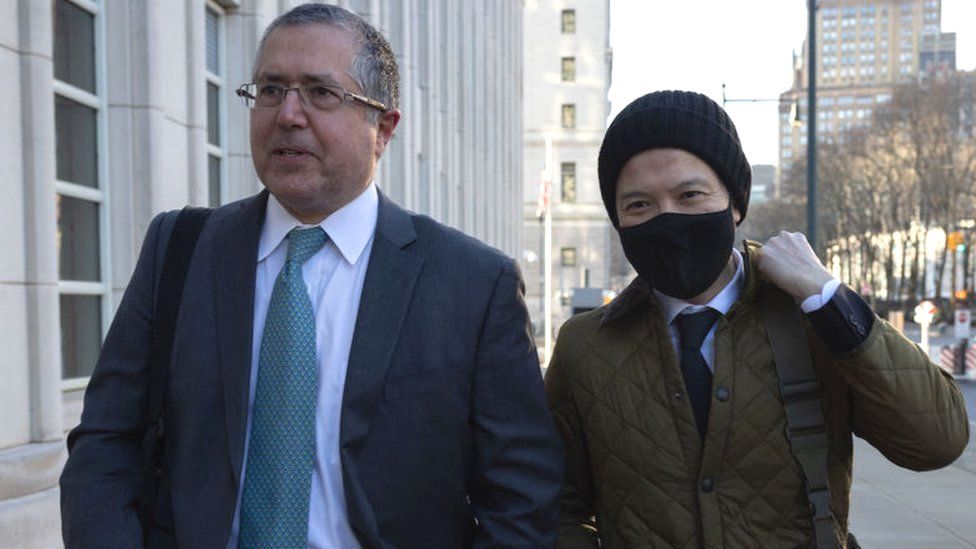 The trial of a former Goldman Sachs banker who allegedly siphoned millions of dollars from Malaysia's beleaguered 1MDB sovereign wealth fund has been paused in the US, because of an "inexcusable" blunder by prosecutors.
Prosecutors admit they did not share more than 15,500 documents with the defence lawyers representing Roger Ng.
These relate to their star witness Tim Leissner, who was Mr Ng's boss.
A judge ruled to halt the proceedings without setting a date for resumption.
On Wednesday, US District Judge Margo Brodie ordered a "break in the trial" centred on 1MDB, an investment fund set up by the Malaysian government that lost billions of dollars due to fraudulent activity.
She asked defence lawyer Marc Agnifilo to decide how much time he needed to go through the evidence, while adding: "I will give you as much time as you need".
Assistant US Attorney Alixandra Smith described the blunder as an "inexcusable error".
Mr Agnifilo has said he may ask for a mistrial "depending on what this information is".
His client Roger Ng, Goldman's former head of investment banking in Malaysia, has been charged with conspiring to launder money and violating anti-bribery law.
Prosecutors say Mr Ng, who worked for Goldman from 2005 to May 2014, received $35m (£26.1m) in kickbacks for his role in the scheme.
If found guilty, Mr Ng faces up to 20 years in jail for a money laundering charge and five years for each of two bribery charges. He has pleaded not guilty to all charges.
Meanwhile, Mr Leissner, who is a witness for the prosecution, pleaded guilty to similar charges in 2018. He previously headed the bank's South East Asia unit.
Prosecutors believe the two men helped divert billions of dollars from 1MDB.
They say $4.5bn of the money was used as bribes for Malaysian politicians and others, who spent their gains on art, jewellery and property.
In court last week, Mr Leissner described Mr Ng as a key banker for 1MDB transactions, in which Goldman helped to raise $6.5bn for the fund through a series of bond deals.
He said they were hailed as "heroes" within the bank for bringing in the business, which brought Goldman roughly $600m in fees.
Investigators subsequently found that the proceeds from the bonds, sold from 2009 to 2014, were largely stolen.
As a result Goldman Sachs spent years being investigated by regulators around the world.
In 2020, the firm reached a $3.9bn settlement with the Malaysian government for its role in the multi-billion-dollar corruption scheme.
It also paid nearly $3bn to authorities in four countries to end an investigation into work it performed for 1MDB.
The same year, Malaysia's former Prime Minister Najib Razak was sentenced to 12 years in jail after he was found guilty of abusing his power, laundering money and breaching the public's trust.