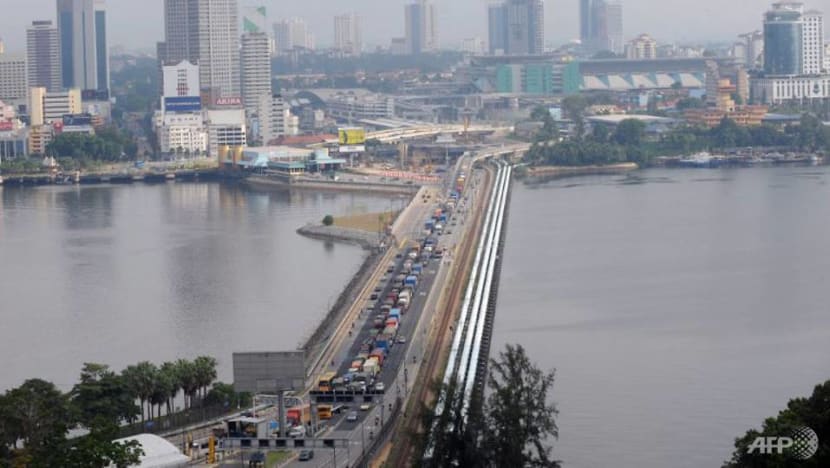 JOHOR BAHRU: Durian seller Louis Lee has not seen his wife and two young children for a year.
The 31-year-old from Muar is among the thousands of Malaysians who are working in Singapore away from their loved ones, stranded by prolonged border closures due to the COVID-19 pandemic.
Lee told CNA that he refrained from going back to visit his family because of the quarantine costs.
On Aug 8, former prime minister Muhyiddin Yassin announced that fully vaccinated Malaysians and permanent residents (PR) returning from overseas will be able to serve their quarantine at home beginning Aug 10.
The announcement has been welcomed by many Malaysians based in Singapore, with many now planning to head back home, including Lee who would like to go back to visit his family under the Periodic Commuting Arrangement (PCA) scheme.
He explained that he would save at least RM2,100 (S$680) in accommodation and food spent on serving quarantine in the hotel upon arrival in Malaysia.
"I can finally see them. My wife misses me and she says she has been depressed because I've been away from home for so long," said Lee. 
"Now, the 14 days spent taking leave from work can be spent at home straight away with my family. It's a big positive," he added.
However, many Malaysians soon found out that home quarantine was not automatically granted to every one arriving at the entry points.
The Health Ministry has since clarified that travellers entering Malaysia via Johor may submit an application to undergo mandatory quarantine at their home at least seven days prior to their arrival.
The application process is not that straightforward, said those interviewed by CNA. Due to the high volume of applications, they may have to wait for a long time for a reply, and some of their applications were rejected without very clear explanation, they added.
HOME QUARANTINE NOT GRANTED TO EVERYONE: KHAIRY
In a press conference on Wednesday (Sep 1), Health Minister Khairy Jamaluddin outlined that less than a quarter of people who have applied for home quarantine have been given approval, stressing that this was contingent on "strict risk assessment by the ministry". 
"As of Aug 10, around 20,000 people have applied for home quarantine. However, we do not grant home quarantine for everyone," said Khairy.
"So far the ministry has only approved 4,159 applications and this is based on strict risk assessment that includes their vaccination status, test and travel history," he added.
The minister added that around 400 travellers were being monitored with digital tracking bracelets in a pilot programme, and the ministry was looking to roll this out to more people.
According to announcements made by Malaysia's Ministry of Health, those interested to apply for home quarantine may submit a form for approval.
Applicants are also required to submit supporting documents such as their full vaccination record and their home address in Malaysia.