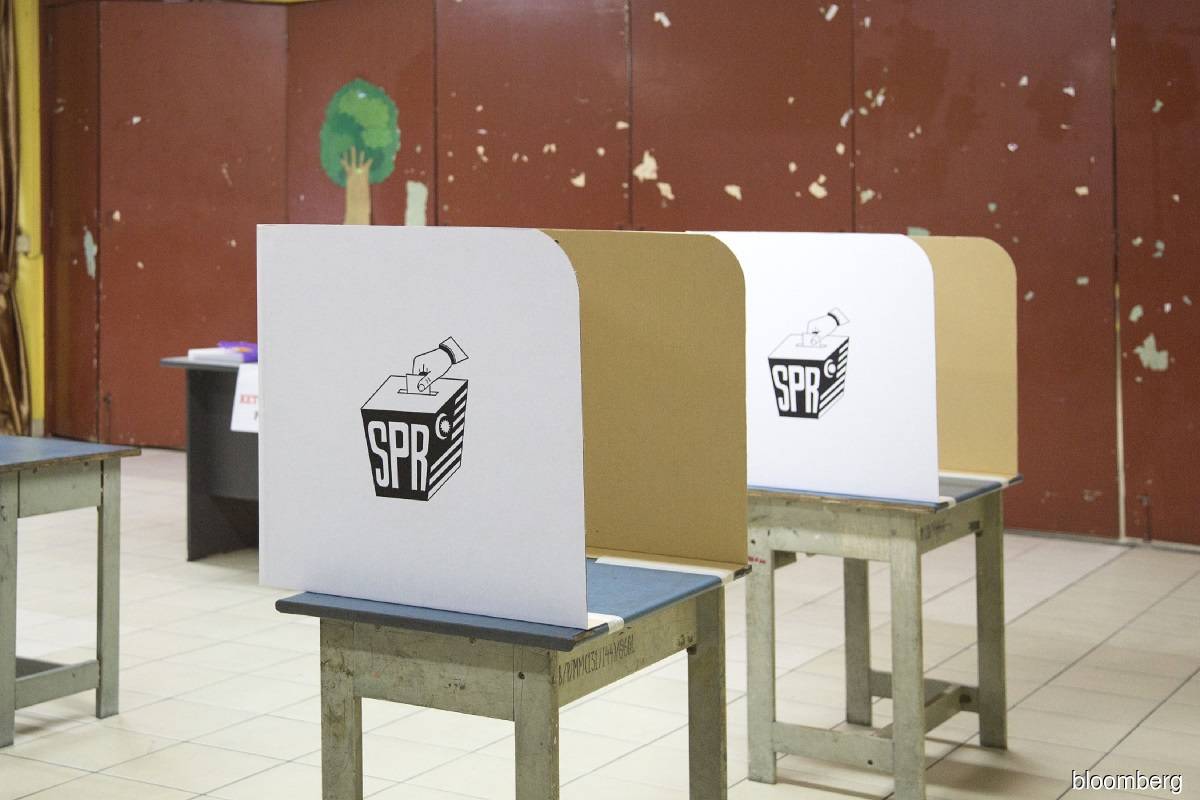 KUALA LUMPUR (Oct 10): After heavy speculation, Prime Minister Datuk Seri Ismail Sabri Yaakob, with the consent of Yang di-Pertuan Agong Al-Sultan Abdullah Ri'ayatuddin Al-Mustafa Billah Shah, finally dissolved Parliament on Monday (Oct 10).
The move comes just days after the tabling of Budget 2023 on Friday (Oct 7), after two visits by the PM to the Royal Palace — once before the tabling of the Budget, and another on Sunday (Oct 9).
Ismail Sabri's decision followed immense pressure by his political party, the United Malays National Organisation (Umno), seeking to hold the 15th general election (GE15) as soon as possible to ride on the feel-good factor following three state election successes by Barisan Nasional (BN) in Sabah, Melaka, and
This is only the second time in history that the parliament has been dissolved before the federal budget is passed. The first time this happened was in 1999 under then prime minister Tun Dr Mahathir Mohamad.
With the dissolution, the Election Commission (EC) will have 60 days from the day it is notified by the speaker of the Dewan Rakyat of the dissolution to organise the country's GE15.
It is likely that the election will be held even earlier to avoid the monsoon season in Peninsular Malaysia's east coast and Sabah and Sarawak, which last year saw one of the worst national floods in at least a decade.
Based on past experience, the EC is expected to make decisions on the nomination date, length of campaign period, and polling date within two weeks after the dissolution of Parliament, said Subang Member of Parliament (MP) Wong Chen.
"Usually it would take the EC four to six weeks from dissolution to polling date. [The 60-day period to organise an election] is the only [required timeline], the rest (nomination date, campaign period, polling date) is up to the EC," he told The Edge when contacted.
In 1999, the general election was held on Nov 29, less than a month after the Parliament was dissolved on Nov 12 and exactly a month after Budget 2000 was tabled on Oct 29.
New voter group, new anti-party hopping rules
GE15 will be making history for other reasons as well. It will be the first time for a national poll to include voters aged 18 to 21 years following an amendment to the Federal Constitution.
And just last week, on Oct 5, a law that prohibits MPs from switching parties freely came into force.
On Aug 2, Deputy Minister in the Prime Minister's Department (Parliament and Law) Datuk Mas Ermieyati Samsudin said in Dewan Rakyat that with automatic voter registration under Undi18, the total number of voters amounted to 21.11 million, comprising 1.14 million voters or 5.4% aged between 18 and 20 years with the remaining 19.97 million voters or 94.6% aged above 21 years.
With the anti-party-hopping law in force, MPs will lose their parliamentary seat if they resign or cease to be a member of their political party, with exemptions given in scenarios whereby an MP is sacked by their party; the party is dissolved or deregistered; or an MP is elected to be the Dewan Rakyat Speaker.
Independent MPs who opt to join a political party as a member subsequent to being elected will lose their seat as well.
This constitutional amendment is aimed at preventing similar political upheaval arising from the Sheraton Move in February 2020 and the ensuing political uncertainties until Monday.
Who's who going into GE15 mode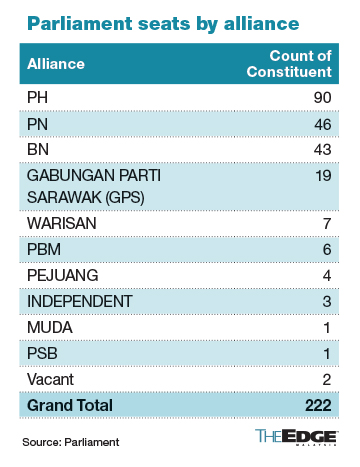 The upcoming GE15 will likely see the continuation of one of the most fragmented political arenas in Malaysia's history, with at least five political coalitions — BN, Pakatan Harapan (PH), Perikatan Nasional (PN), Gabungan Parti Sarawak (GPS), and Gerakan Tanah Air, led by Parti Pejuang Tanah Air.
Prior to the dissolution of Parliament, the 222-seat 14th Parliament was largely divided by four political alliances, with PH being the single largest one with 90 seats, followed by PN's 46 seats, BN's 43 seats and GPS' 19 seats.
In four years, the country witnessed breakaway of several more MPs from bigger political parties.
These included Parti Bangsa Malaysia, headed by Plantation Industries and Commodities Minister Datuk Zuraida Kamaruddin, with five other MPs who cut ties with PN's Parti Pribumi Bersatu Malaysia.
Several of Bersatu's founding members also exited during the Sheraton Move, including Mahathir and several MPs who formed Pejuang — only to have several members leave that new party, including former education minister Dr Maszlee Malik who later joined Parti Keadilan Rakyat (PKR).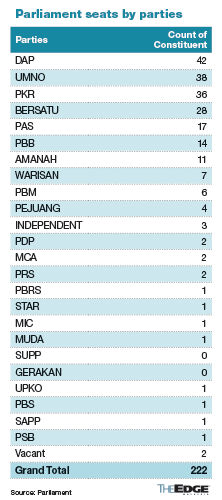 Bersatu's then youth chief and former minister of youth and sports, Syed Saddiq Syed Abdul Rahman, also split with his mentor Mahathir during the Bersatu exodus and went on to form Malaysian United Democratic Alliance (Muda).
Parti Warisan, a PH-friendly party led by former Sabah chief minister Datuk Seri Mohd Shafie Apdal, is another heavyweight with seven seats.
According to Parliament data, the four alliances consist of 18 political parties — five each in PN and BN, and four each in PH and GPS.
In terms of individual parties, the Democratic Action Party (DAP) under the PH coalition had the most seats prior to dissolution of Parliament with 42, followed by Umno's 38, PKR's 36, Bersatu's 28 and Parti Islam Se Malaysia's (PAS) 17.
It is worth noting that while PAS is currently a member of PN, it is still flirting with Umno on potential collaboration in GE15. The Islamic party reportedly said that it will finalise its decision on which coalition to partner with.
Other than PAS, PN consists of Bersatu, Parti Gerakan Rakyat Malaysia, Sabah-based Parti Solidariti Tanah AirKu, and Sabah Progressive Party.
Umno together with long-time partners since the founding of the nation — Malaysian Chinese Association and Malaysian Indian Congress — still form the main pillars of BN, alongside Parti Bersatu Rakyat Sabah and Parti Bersatu Sabah.
PH currently consists of DAP, PKR, Parti Amanah Negara, and Sabah-based United Progressive Kinabalu Organisation, while GPS houses Parti Pesaka Bumiputera Bersatu, Progressive Democratic Party, Parti Rakyat Sarawak, and Sarawak United Peoples' Party.
Of the 222 Dewan Rakyat seats, two seats were left vacant following the demise of their respective MPs.
Not all legislative bodies have to be dissolved along with Dewan Rakyat
The upper house of Parliament, the Dewan Negara, will not be dissolved as its members were appointed with a three-year tenure, with a maximum renewal of two terms.
For state assemblies (DUNs), although BN-controlled states such as Perlis, Perak, and Pahang are likely to dissolve their respective DUNs in line with GE15, several other DUNs are not likely to be dissolved because they had held state elections recently. These include Johor (March 2022), Sarawak (December 2021), Melaka (November 2021) and Sabah (September 2020).
The PH coalition has decided that DUNs for states ruled by them — namely Selangor, Penang and Negeri Sembilan — will only be dissolved next year in view of the monsoon season.
Similarly, PAS on Saturday (Oct 8) said that it would not dissolve the DUNs under its control if GE15 was held this year. The Islamist party leads the state assemblies of three states, namely Kedah, Kelantan and Terengganu.
Other things to watch out for: voter turnout, Budget 2023 retabling
With Budget 2023 only tabled for the second reading in the Dewan Rakyat and yet to be passed in Parliament, Dewan Rakyat Speaker Tan Sri Azhar Azizan Harun reportedly said the newly elected government formed after GE15 would need to restart the whole process of tabling the national budget again.
"The new government needs to do the first reading again, because the budget does not bind the next government," Azhar told reporters in Parliament on Sept 28.
However, the newly formed government can choose to re-table the same draft Bill to the house.
In 1999, when Dewan Rakyat was similarly dissolved in November before approving Budget 2000, a short Parliament session was called in December to approve several necessary government expenditures like civil servant salaries for the first few months of the following year.
A comprehensive national budget was tabled in late February 2000, three months from the date of the general election.
With the rainy season just around the corner, it will also be interesting to see the turnout of voters who will decide on the people leading Malaysia's government through the next five years in the face of a challenging global economic outlook.
During the GE10 on Monday, Nov 29, 1999, which also occurred during the monsoon season, voter turnout was registered at around 69%. That being in the pre-Undi18 era, the election roll comprised voluntarily registered voters.
The 2022 Johor state election, held on Saturday, March 12, saw a 54.92% turnout, the lowest in recent elections.
In GE14, on Monday, May 9, 2018, voter turnout was high at 82%.